Face Dance Challenge
Improve Physical Interaction between LDR Couples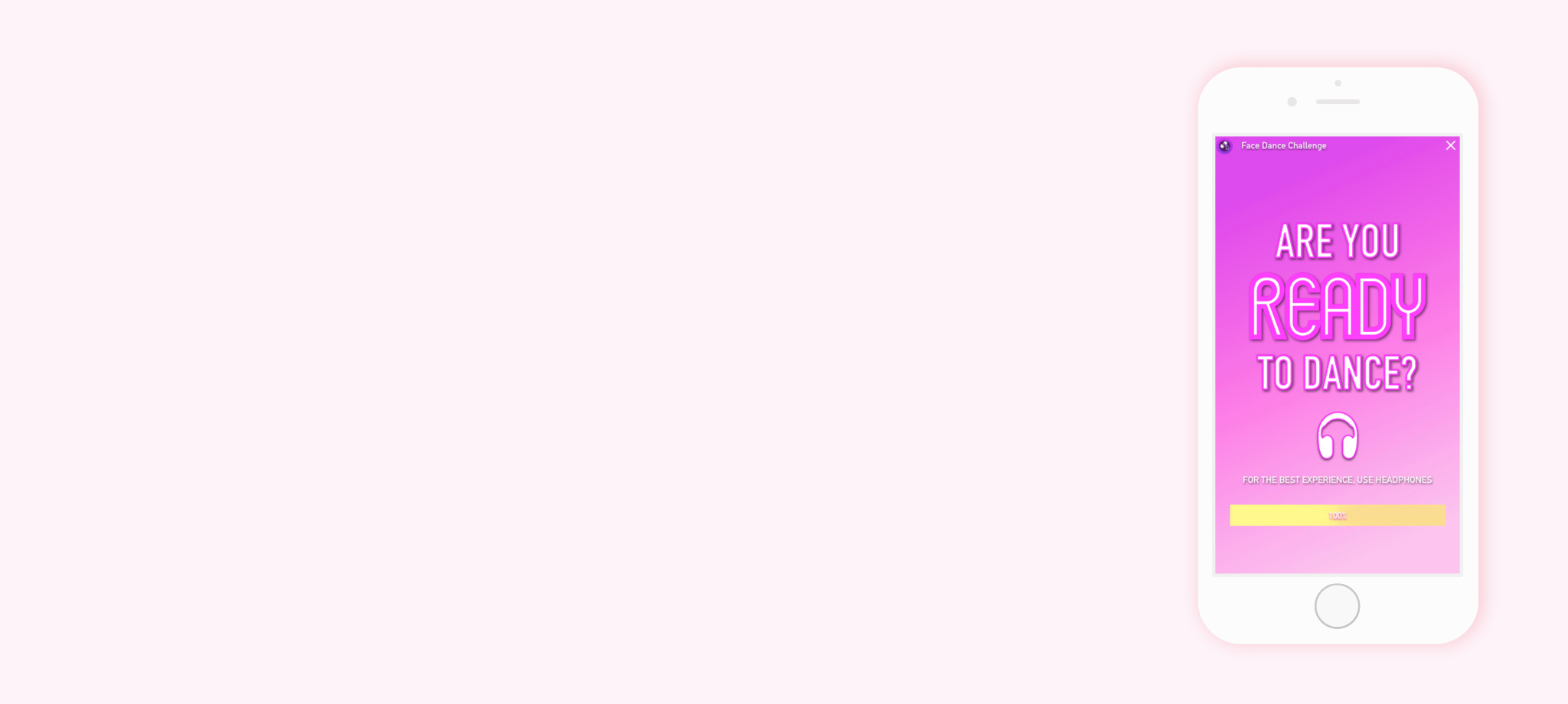 Type
Individual Work
Interaction Design
My Role
Interaction Designer
UX Researcher
What I Did
Comparative Analysis
Semi Diary Study
Interaction Design
Usability Test
---
Design Challenge
Improve Lack of Intimacy Due to Long Distance
Being in a long-distance relationship (LDR) can be challenging not only because it's hard to create common goals and memories but also because it can severely wear the romance between partners due to lack of intimacy. Worst yet, the blank between conversations during video-chat can even lead to insecurities in a relationship.

Long distance can wear away the romance between partners.
Solution Overview
Face Dance Challenge for Couples
To improve the sense of intimacy between partners in LDR, I came up with a game extension for Messenger which features a video-chat-based game, somatosensary interaction and a collaboration-based scoring mechanism. Face Dance Challenge is an extension that improves the lack of intimacy between couples at any stage of an LDR by filling up the blank between conversations, transmitting sense of touch, and creating a common goal for partners to achieve.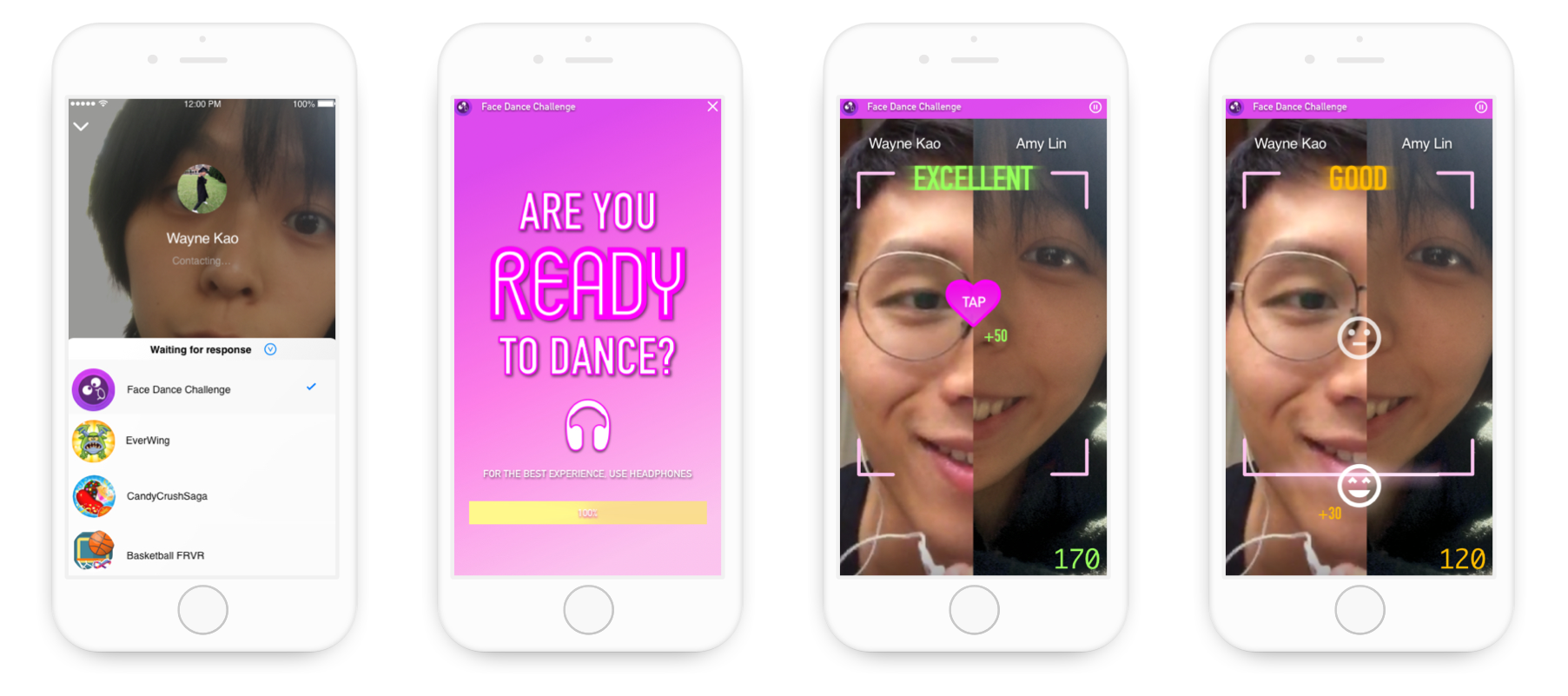 Screens of Mobile Interfaces
Research
To better understand my design challenge, I conducted a semi-constructed diary study on 3 relationship-related boards on the most popular BBS forum in Taiwan that preserves more than 20 years of records to understand the challenges that LDR couples in different stage of relationship would face.
Understanding the Users
Based on my findings from the diary study, I built 4 personas, 3 pro-persona and 1 anti-persona, to better target the success of potential users -- most couples that have successfully conquered LDR share common goal in life and what bothers them the most is not having physical interactions.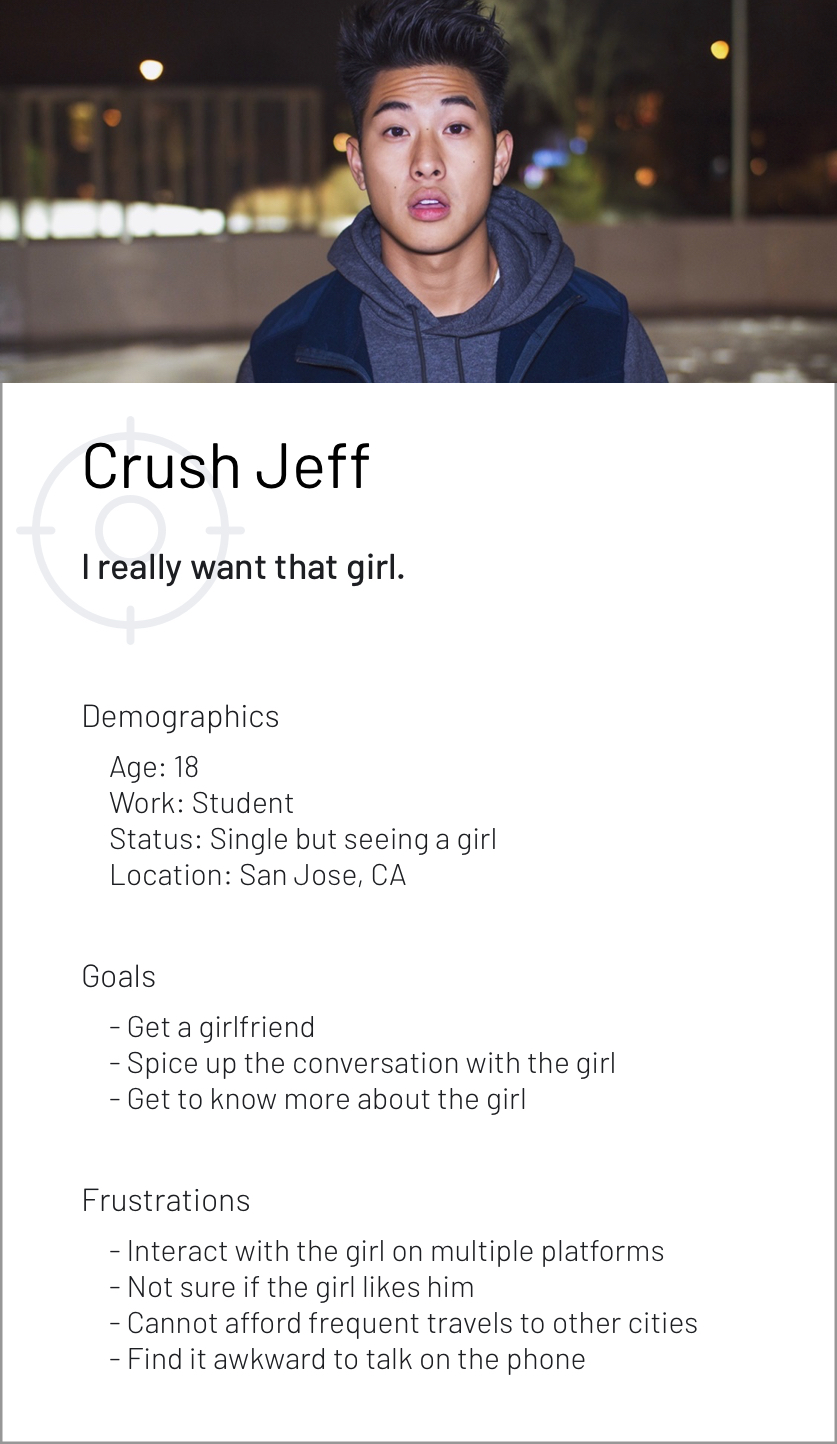 Have a Crush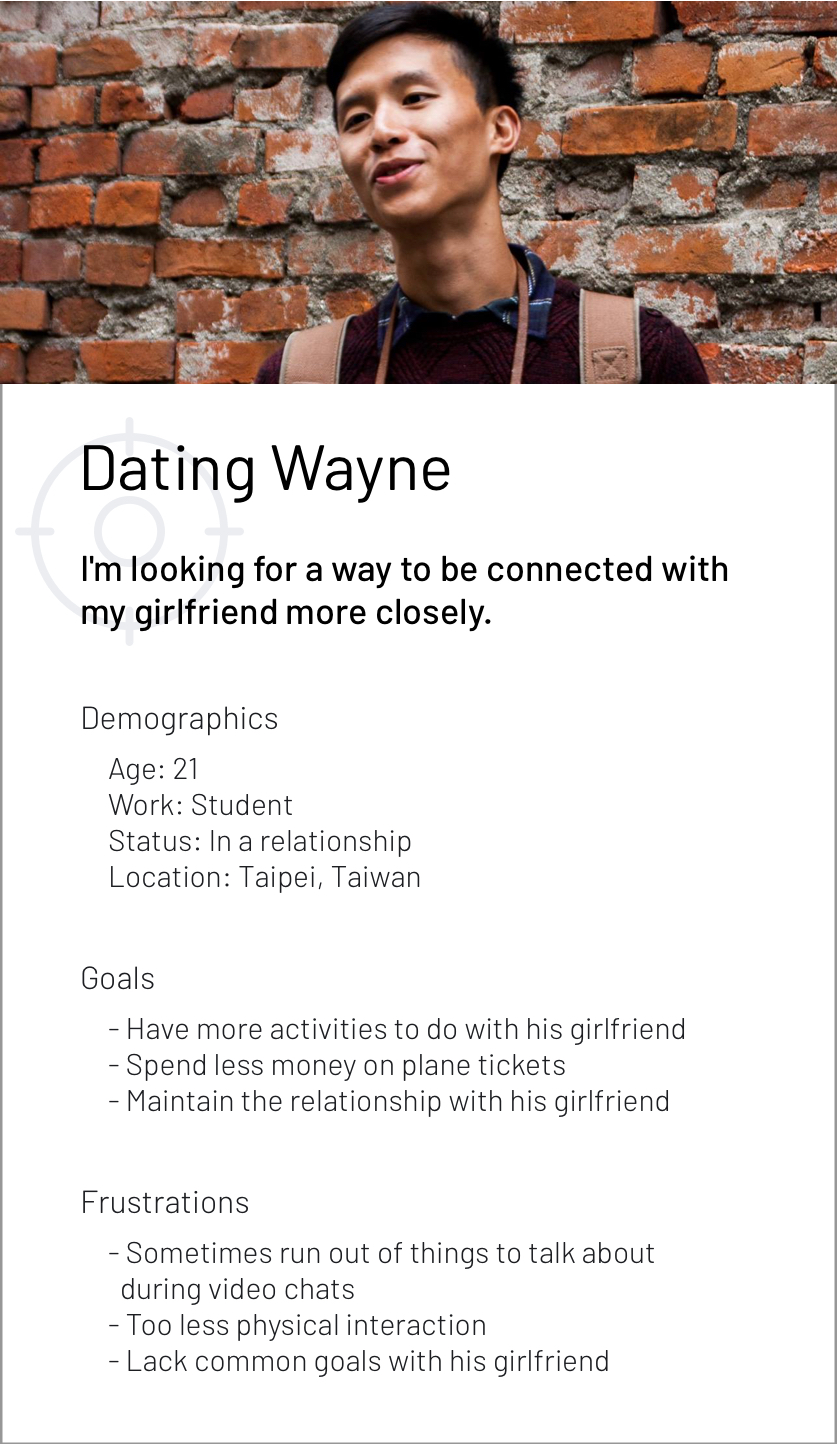 In a Relationship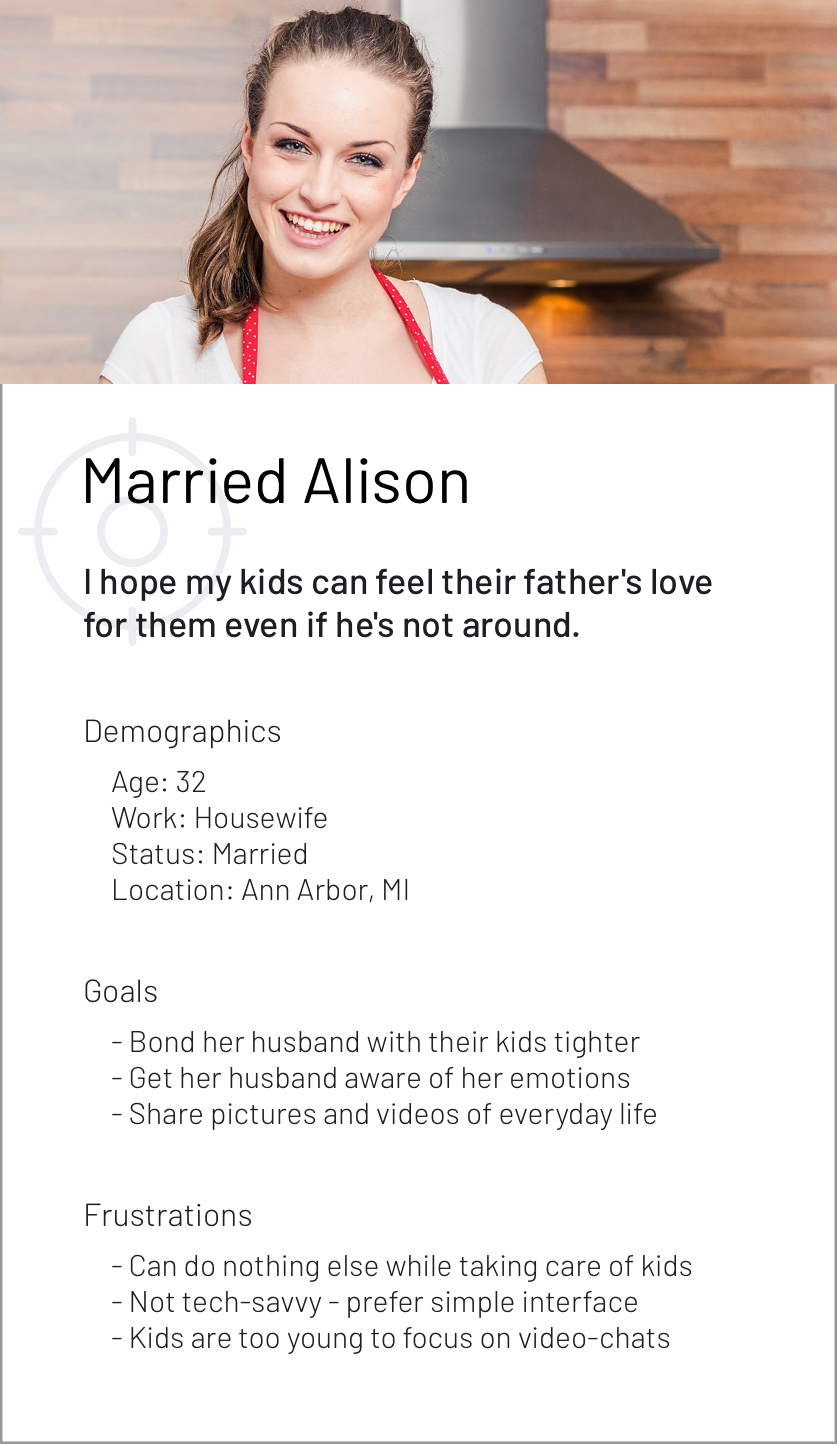 Married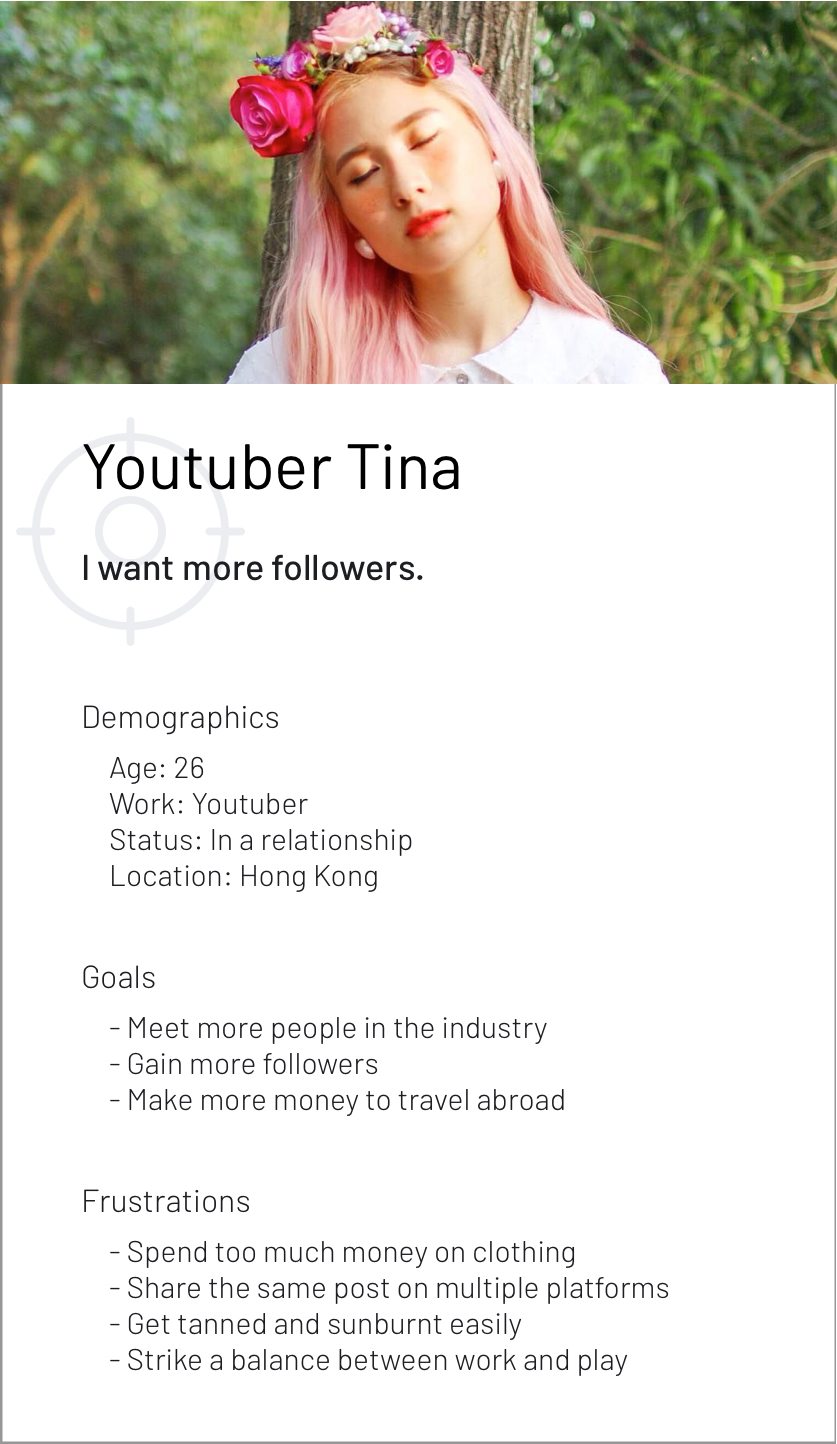 Anti Persona
Marketing Research
To understand current digital solutions for LDR couples, I selected 5 top-rated applications designed for couples from the App Store. However, current solutions requires extra steps to connect and none of them provides physical interaction.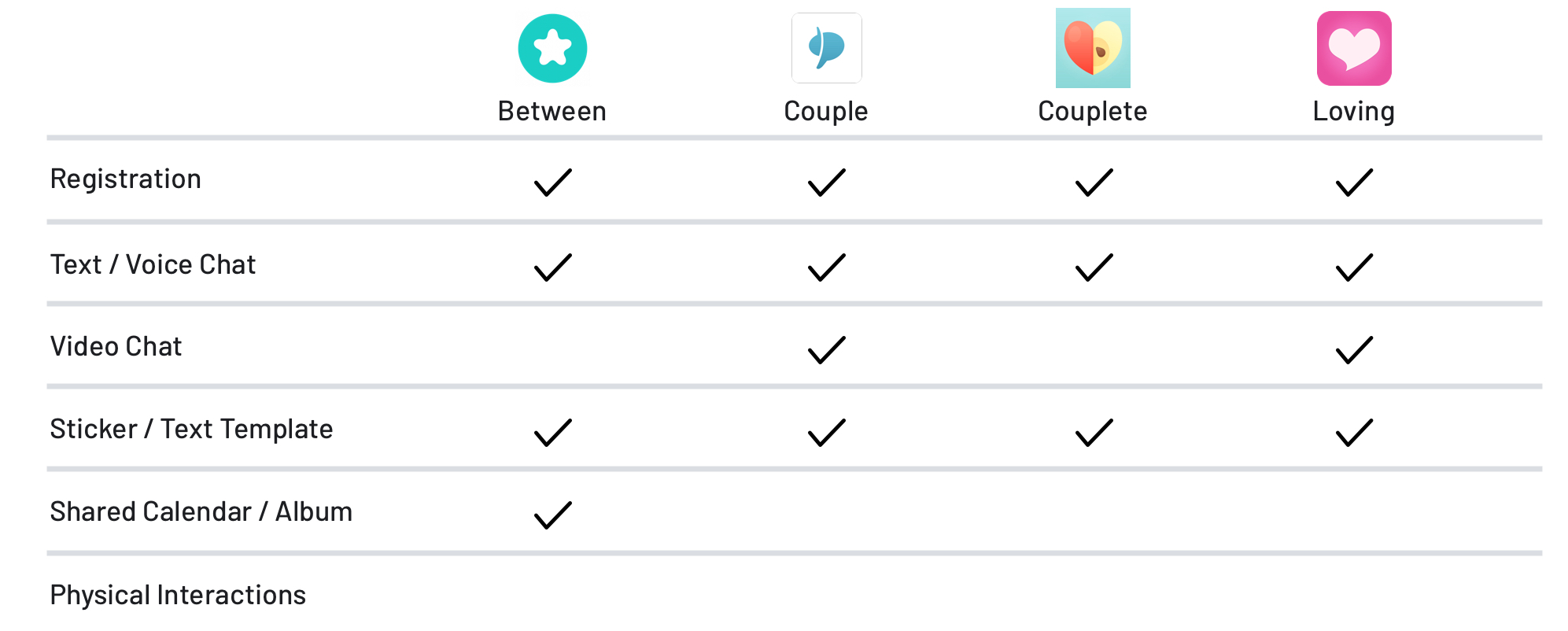 Comparative Analysis
Design Approach
Ideation: Solution Exploration
Based on research insights, I sketched out 8 different solutions, ranging from restaurant service design to waterproof remote control vibrator for sexual purposes. These solutions aims to help couples interact as if they were on each other's side.

8 Solutions to the Challenge
Use Cases and Context (User Journey)
To understand how users currently interact with their loved ones, I map out how couples in different stage of a relationship (crush, in a relationship, married) based on the 3 pro-personas.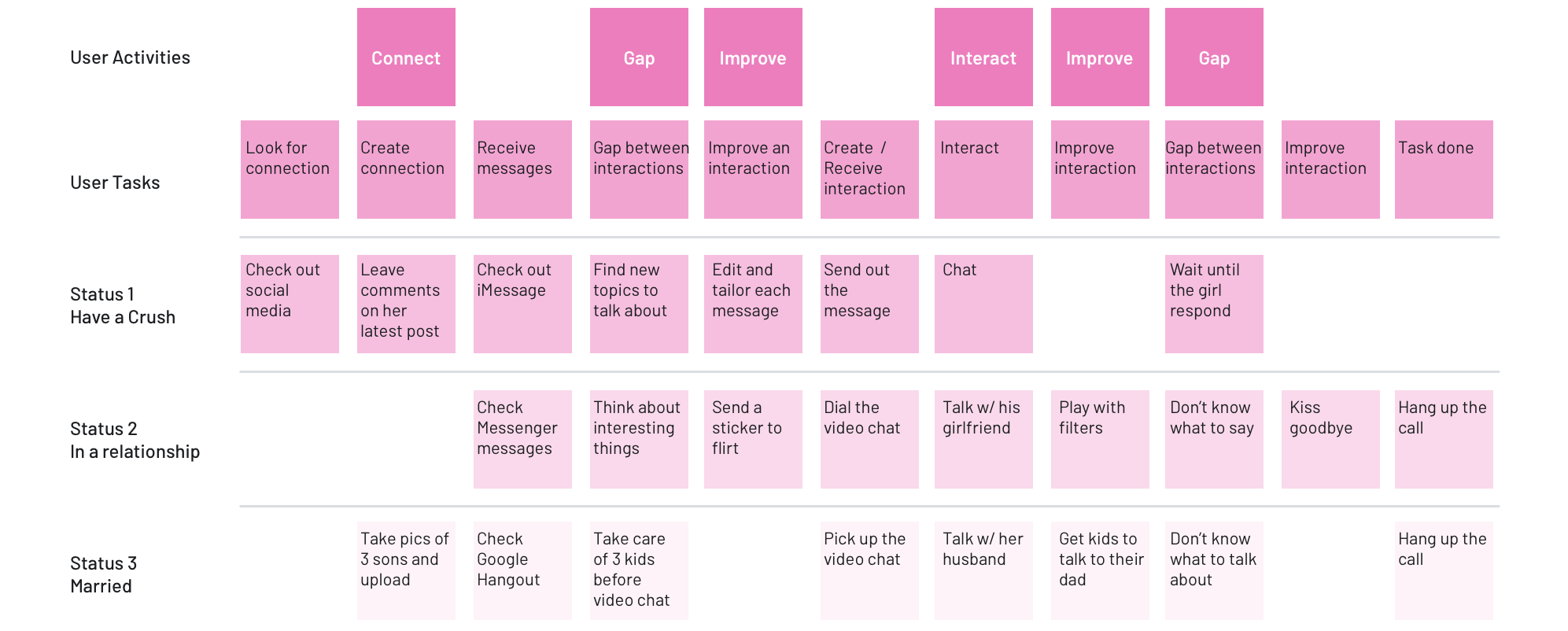 User Journey Map
With the user journey map, I concluded 2 things:
Couples are connected with their loved ones on social media.
Couples would try to improve their interactions when there's a gap in between.
These findings led me to my final decision on redesigning FDC as a game extension on Messenger.
Design Synthesis & Rationale
Following user journey mapping, QOC (Questions, Options and Criteria) rationale is implemented to explore the possibilities and challenges of different means of interaction in the video-chat-based game.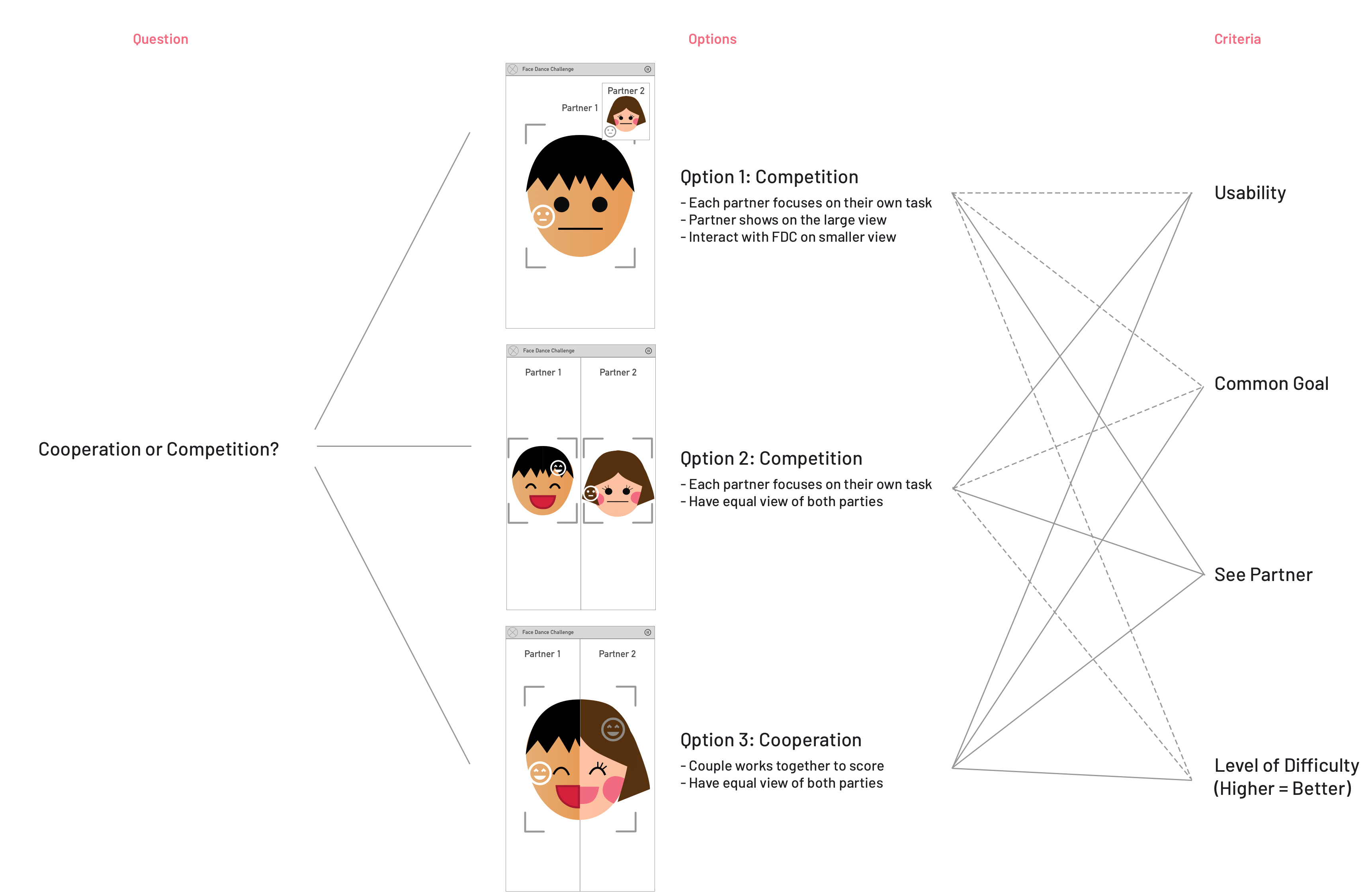 Design Rationale (solid lines: criteria met; dotted lines: against the criteria)
Rapid Prototyping
To validate my research ideas and the initial design, I conducted a round of rapid prototyping and came up with 10 interactions to test with users.
Paper Prototyping
The first iteration is rapid prototyping on paper. My sketches include 2 major themes: 1) Messenger and 2) Face Dance Challenge.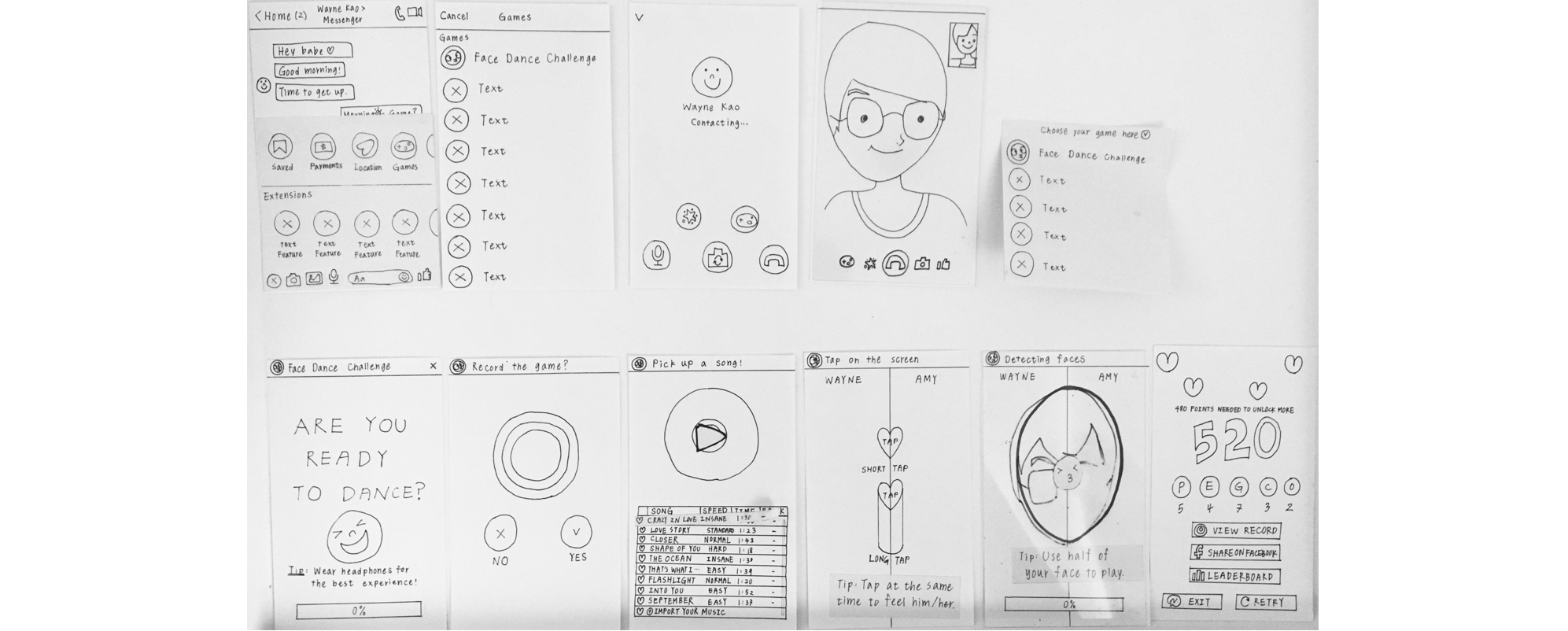 Messenger paper prototypes (upper row); Face Dance Challenge prototypes (lower row)
User Testing
Then I tested 2 users with paper prototypes and here are the major takeaways from the test:
It's hard for users to find out where the extensions live under Messenger text chat mode.
Users only react to the emojis that shows on their half of the screen.
When the game ends, users are confused as they were not able to see their partner in the leading board screens, even though they are actually in a video chat.
Major Design Changes
With the feedback and takeaways from the user tests, I then move on to hi-fi prototyping and design iterations, with an eye to creating a joyful gaming experince: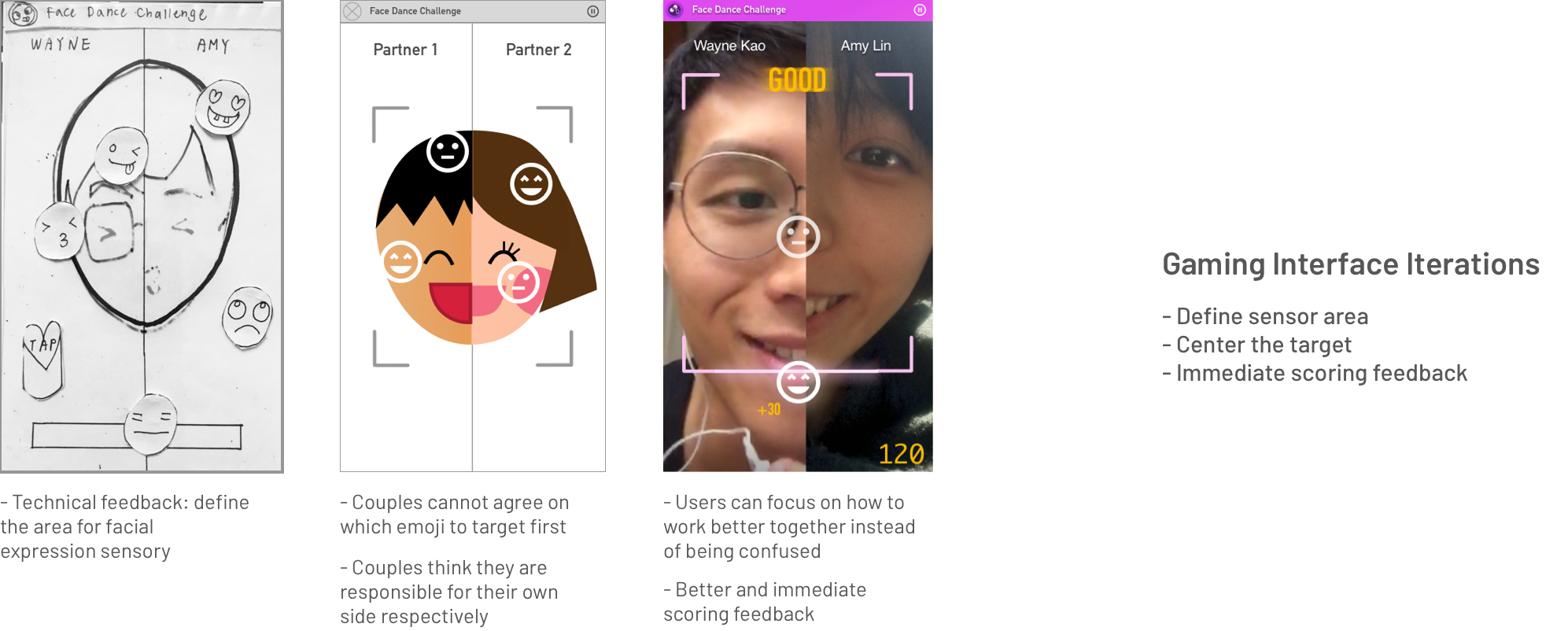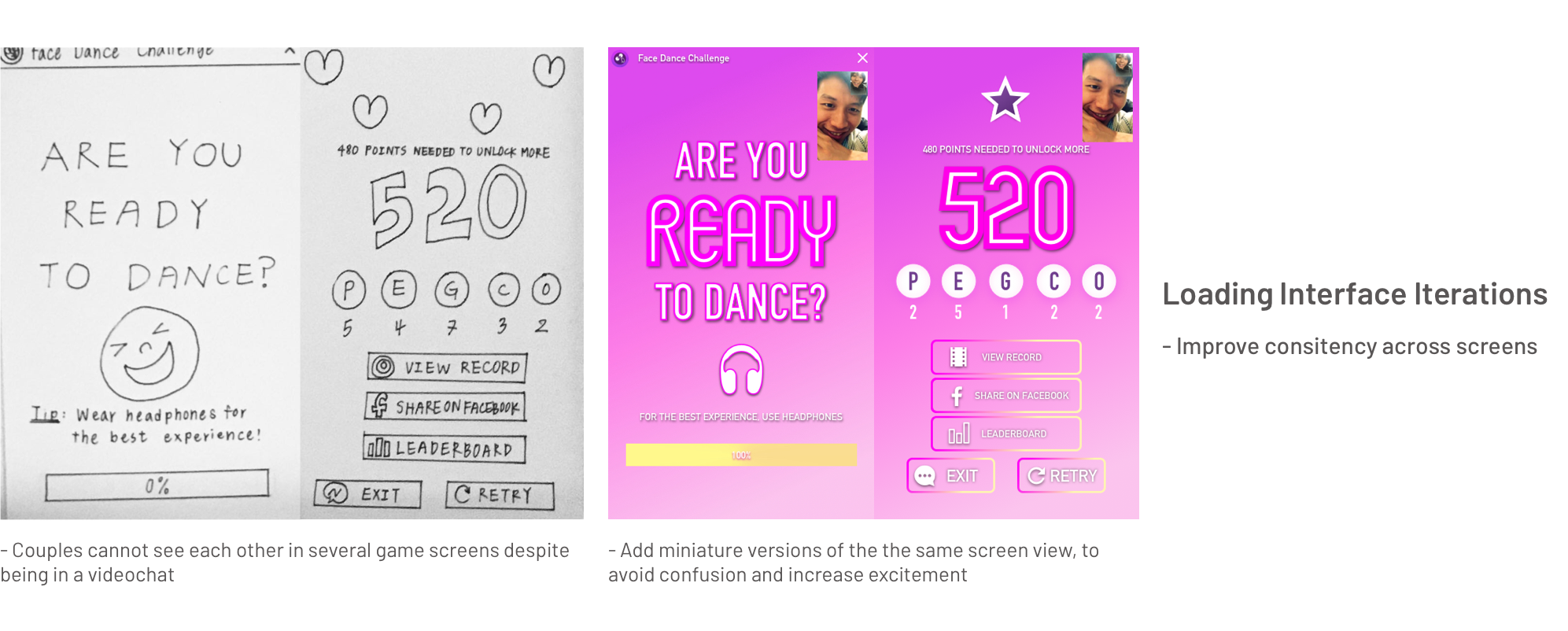 Final Screens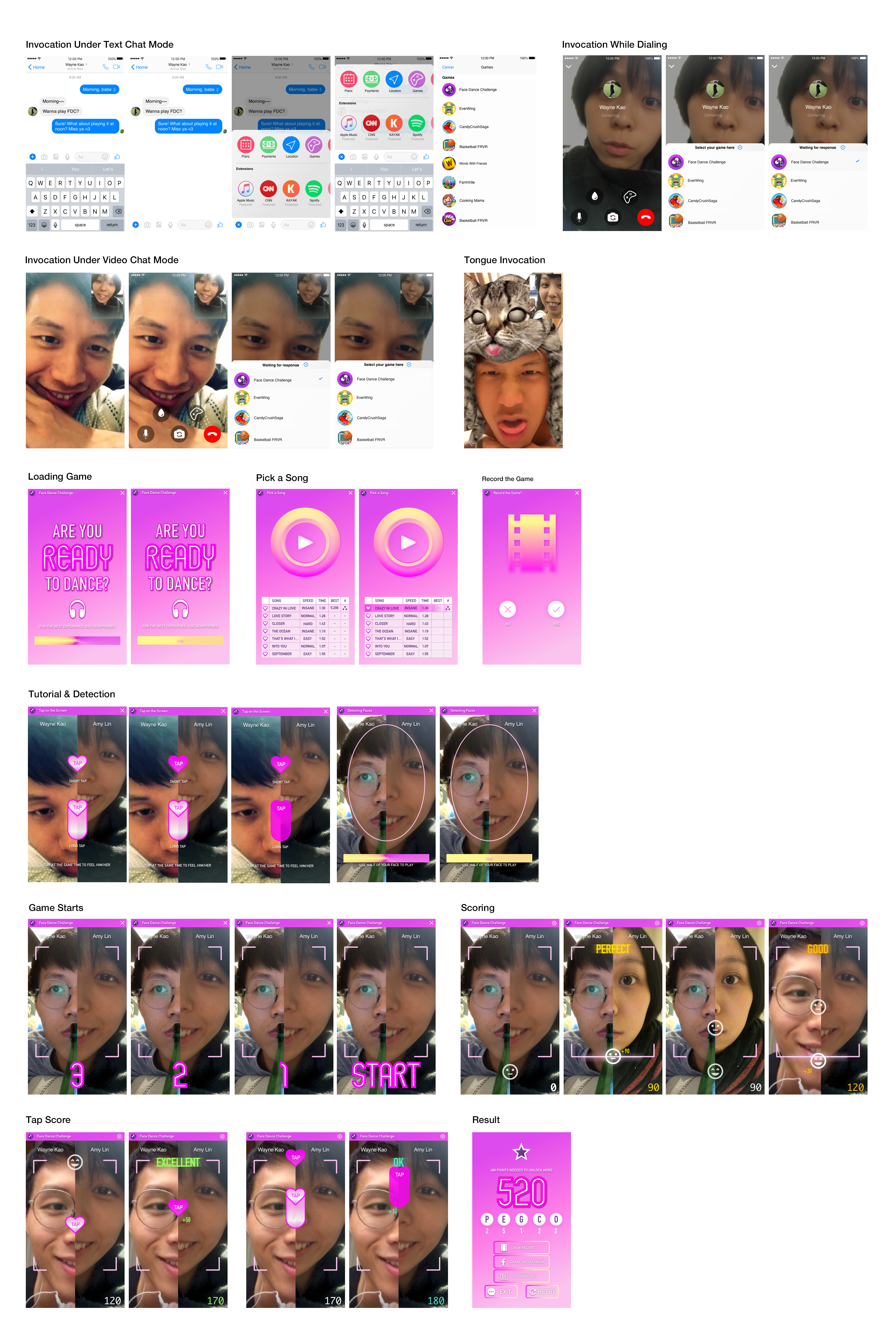 Impact
The social impact I would like to make is that:
There's no need to be afraid of the distance -- you're not alone and FDC is here to help!
Inspire more desisgners to work on solutions that targets LDR couples.
Takeaways
User-testing and iterations are super important in the design process. Even though I was constantly thinking about how I can sharpen my design while ideating and prototyping, I still neglected several integral parts of design such as interaction consistency. Also, I wish I had conducted 2nd user-testing after the iterations were implemented.