Microsoft Lograker: Feedback
Increase user feedback submission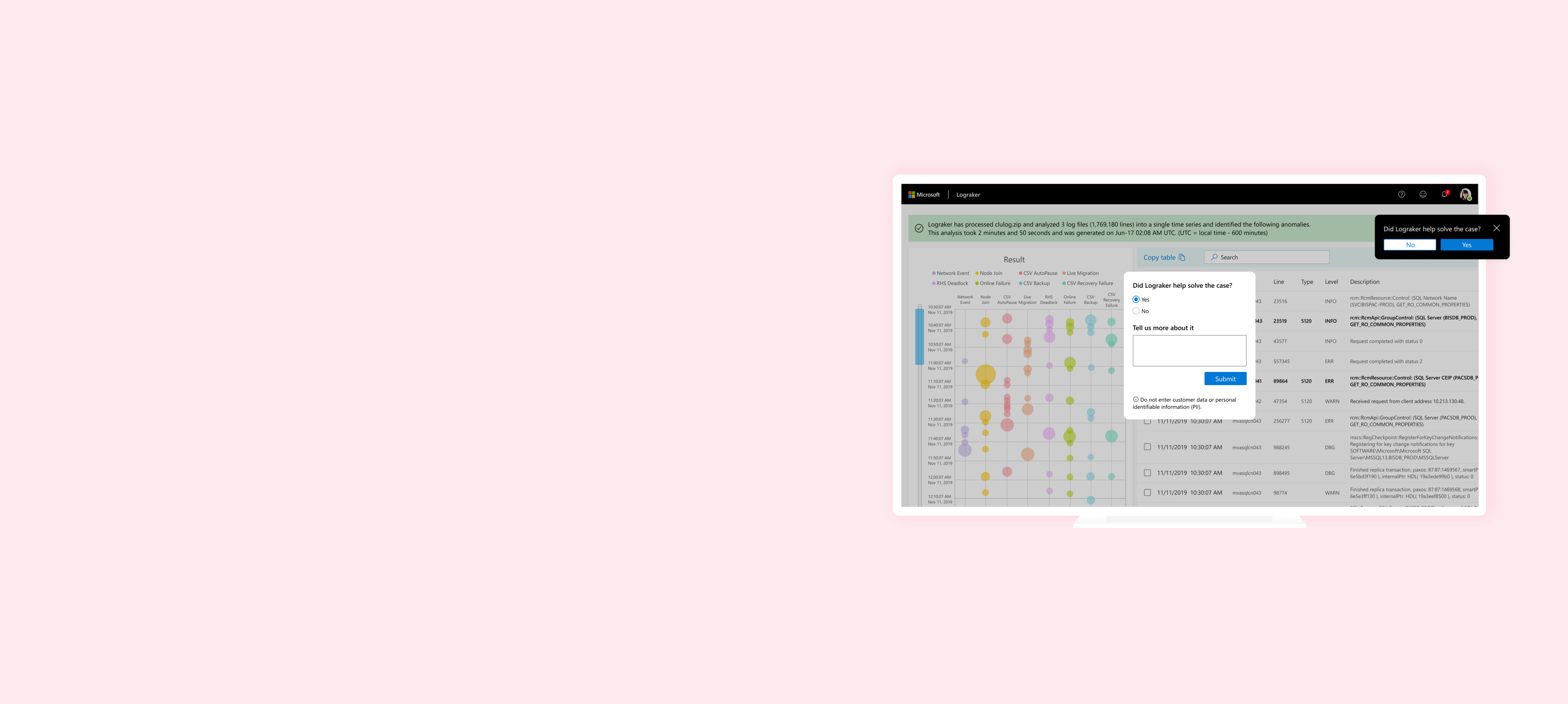 Type
Industry Work
Product Design
What I Did
Product Design
UX Research
---
As a designer working on an early-stage internal tool, Lograker, I'm eager to understand how users interact with it. The feedback collected can not only shape the visuals and interactions but also shed lights on where the technical issues are.
On the other hand, however, designers are people. As I'm designing the forms that users can submit their feedback to, there are more surveys in my inbox that I never fill out. In other words, I know that my fellow humans might not fill the surveys I design. Still, collecting their feedback is crucial to the success of the tool.
Design Challenge
Increase user feedback submission
The traditional way of including a feedback section on top of the navigation was implemented as a minimum viable solution to the feedback collection problem – All Microsoft product has this. Hence, it was assumed that the feature has good discoverability and that users would use it when encountered a problem.

The old feedback forms sit on the top navigation just like other Microsoft products
Failure
In one recent release, 9 support engineers encountered technical issues while they're trying to use Lograker to solve a case. Nonetheless, only 1 submit feedback to report the issue.
We were lucky to be able to trace back to the other 8 users to help solve the technical issues. This incident also provide an opportunity for me to revisit the feedback collection problem.

Only 1 in 9 engineers submits a feedback form in face of technical issue.
Research
Feedback collection should be contextual and effortless
We found that most support engineers decide not to submit a feedback is because they just want to focus on their job and submitting a feedback form seems like a lot of work. Worst thing worst, they can go back to the old means of solving a case.
Understanding that our users are more passive in providing feedback, the team agreed that we need a more proactive way of asking for feedback that doesn't disturb the support engineers while they're solving a case.
Constraints
Since Lograker is an early stage product, technical issue can occur at any step of the process. However, without a tracking system in place, it's hard to determine when would be an appropriate time to ask for feedback.
Iterations
To understand how other means of service has done to ask for feedback, I did a comparative analysis and brainstormed multiple ideas with the team.
Idea 1
The star-rating approach is preferred by the engineering manager, but it only helps the team understand whether the users are happy with the product but not so much about how Lograker can be improved.

Idea 1: Star-rating feedback
Idea 2
To create a more proactive approach in asking for feedback, I came up with a pop-up-notification-form feedback idea, which pops up when support engineers return to the page after hitting on copy. This accommodates for cases when the feedback dialogue appears at the wrong time as if users opt to close the pop-up, it sends a notification to the feedback tab so that support engineers have the choice to submit a feedback later on.

Idea 2: Pop-up-notification-form feedback
Final Solution
I was pushed back by the engineering manager because of the extra barriars/step of giving feedback in Idea 2. However, all other engineers were convinced by my rationale. Based on the feedback, I iterated further to create more touch points for feedback-sharing.

Final solution -- More touch points for feedback
Takeaways
Best practices are not always the best solution
Designing for feedback collection is an interesting problem to solve as the answer might seem so evident on the surface that everyone thinks that they have the right answer to it.
This is also the first time I design for nudging people's behavior, which is an area I'm super interested in. I wouldn't have the chance to revisit the problem if it were not for Lograker's the technical issue. Also, as the feature releases, I hope that it would shed lights on how the team can better shape the experience for the support engineers and encourage the upper management to invest more resources in UX as the product matures.